Kunihiko Ikuhara's anime are incorrigibly gay and degenerate, aren't they?
I was kind of worried that he peaked in Ikuhara-ness with Yuri Kuma Arashi (literally LESBIAN BEAR STORM), but I was soooo wrong!
His latest anime, Sarazanmai, prominently features a young boy crossdressing as an idol getting his soul sucked out through his butt by a kappa. And that's not even the serious gay stuff. There's a ton of poses, non-erotic nudity, sweaty wrestling and singing– oh god the singing — but the gayest part of the show is easily the dynamic duo of villainous police officers.

I tend to not like shows with a lot of time consuming stock animation and formulaic fight sequences which only serve to pad runtime– and this show is atrocious on both fronts. If KANA-BOON's 'Massara' wasn't such an earworm, and the characters weren't so adorable, then I probably wouldn't be able to get through this anime! (despite all the wonderful gay shit)
And well, I'm sure that because no one remembers who I am, this doesn't sound like a dramatic shift in tone! But I promise, it's a little different.
I've changed a little bit–
I've figured some crap out. Finished my first year of college with a GPA higher than 3.5 and started taking summer classes so I can get my masters degree before my high maintenance friend finishes his bachelors. I also happened to get involved with a few different online communities, which happen to be where I've redirected all the energy and time that used to go towards blogging…
And to stop being coy, I've pretty much accepted my label as having the BIG GAY.

Now, I've gone on record saying I'm a hardcore individualist with the radical stance of advocating gender abolitionism, haven't I? Somewhere along the way, I probably discussed my hatred for labels. As someone who has spent more than 5 years on this planet, I have realized that the act of labeling and categorizing something is done with a purpose. Whether that purpose is to meaningfully distinguish groups for the purpose of study or to reinforce already held beliefs, you can't deny that these are actions taken with intent. I hated the act of categorizing humans because I don't believe humans are socially simplistic enough to be meaningfully grouped– which matters because harm is the inevitable result of forcing an ill-fitting expectation on anyone.
More recently that hatred has shifted from the physical act of categorization and towards the people who misuse categorization. People who use a definition of a thing to defend that same definition of a thing are the worst. Debates can and must often be reduced to the point of semantics to be meaningful because the way we define and classify things is critical to how we resolve disputes and make meaningful changes. If someone wants to solve a cultural divide, then you have to understand what they mean by "culture" and "solve". Does the person see culture as equivalent to ethnicity or religion? Do they mean solve as equivalent to eliminating the elements which differentiate one group from another? These are semantic debates, and they matter The way you label something is intrinsically tied to the way you view and engage with it.
*cough* Which is why names and meta discussions about tropes have such an important role in Nisioisin's Monogatari Series! *cough*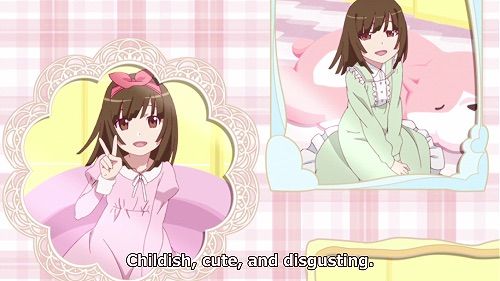 And when I say I have the BIG GAY, I'm not saying that I suddenly don't like girls. For awhile now, I've internally described myself as functionally straight. I can like guys, but I used go out of my way to not walk to close to them or look at them too much so I don't really get too into them. But ya know, sometimes a smol vegan weeb just really meshes well with you, and ya end up really enjoying the time you spend together. Eventually you start noticing that despite his height, he's got big arms and a cute smile. At some point you just gotta be honest and admit, well, there's really no point in saying that I don't have a crush on this dude.
It turns out that functionally straight was really just me ignoring that I am pretty bisexual. If you want to know why I would try and control my feelings like that, it was probably because my only dream from childhood was to be a parent. Rather than wanting to be a computer programmer or writer, I've always just wanted to start a family. Since I obviously would want the best for that family, I wanted to prematurely reduce the pressure that they might feel– and I figured that adopting would be just one thing that might stress the kid at some point.
Now, what's the point in explaining all that, you might ask…
Well, honestly my sexuality was not very much of a surprise to me. It really doesn't matter who I can be attracted to. It's a small thing. Gay marriage is legal, and I don't really care about my family's opinions on stuff… so it really doesn't matter if they would accept me or not. (if I even end up with a guy)
The bigger thing was realizing that I'm transgender.


And I mean, for the two people who have read any of my old ramblings about gender abolitionism earlier, I still believe gender is something that should be removed from society as a concept. But the thing is, we're nowhere near that point. As a child, I was told that I couldn't like pink because I was a boy. Just two weeks ago, I was told I should come out as trans to my grandmother before showing her my red painted nails– because it would shock her! Most people are sexist and weird in the same way that some people are racist and weird. Like race, I want to yeet the concept entirely, but to do so now would limit the vocabulary that can be used to help the people who suffer because of weird prejudices… It would be ideological masturbation to argue against the validity of categorizing people as ethnically Jewish if there was a Holocaust going on that persecuted "ethnically Jewish" people for being perceived as Jewish.
Thanks to my intellectual consistency, this acknowledgement has led me to finally accept interactions with "leftists" online. Me and my IRL friends used to joke about the contradiction that is "anarcho-communism" and now I know firsthand that a large proportion of leftists subscribe to some variant of anarchism. While I have remained entirely unconvinced of any end-goal economic solution they have proposed "to abolish the presence of unjust hierarchies", I have been very interested in their various theories about causing immediate change. They debate the effectiveness of political violence, of balancing the presentability of a marginalized group against the individual's (of the marginalized group) ability to express themselves, and the way language and concepts are created to benefit certain agendas.
It's all kinda interesting. As a Nisioisin fan, I've always been attracted to the exploration of individuality in modern societies and the role of narratives in shaping those individual lives. Previously, anime was the most interesting and productive way for me to get my fix of interesting perspectives and aesthetics–
And don't get me wrong, I still love anime to death, but I just don't watch it in quite the same way anymore. This blog was made to talk about critically the niche anime I couldn't talk about with my university's anime club or close friends. I was using it to document my exploration into more philosophical topics from the rather exclusive lens of anime… but I don't think this blog is useful for me anymore.
So that's why I'm writing this.
It's a bit of a farewell. A farewell that I've written over at least 15 times over the past month and a half. I originally meant to have this post out by the first day of "Pride Month"…
Oops! Looks like this post only took me an extra month and a half!
But as my blog can attest to, I'm an awful, cowardly person and I want to try and change that. I want to face forward, make emotional connections with people that I value and risk being hurt for a change. While I don't expect that trying to change my entire social modus operandi will be an easy thing, I think that getting rid of baggage and excuses will help me take the steps needed to live a little bit more. So, before I waffle any longer, allow me to say thank you to the people I've interacted with here through blogging. It's been fun!


Goodbye my blog, goodbye Edgy Anime Teen.
(also, just so we clear all our bases, Vento Aureo is the best Jojo anime so far)